Black Friday in the United Kingdom
Black Friday pandemonia has officially taken over the United Kingdom, as a nation we look forward to it every year, we save our Christmas spending until Black Friday has arrived, and the amount we spend each year is increasing by dramatic amounts. The holiday which originated in America has slowly spread across the globe and now savvy shoppers are waiting for this day to start shopping. Black Friday going global sounds like great news for consumers or is it? Recently, research has shown that around 57% of deals are fake with brands inflating prices to make it seem like a great deal. In this document, we'll delve into the figures of Black Friday for 2020.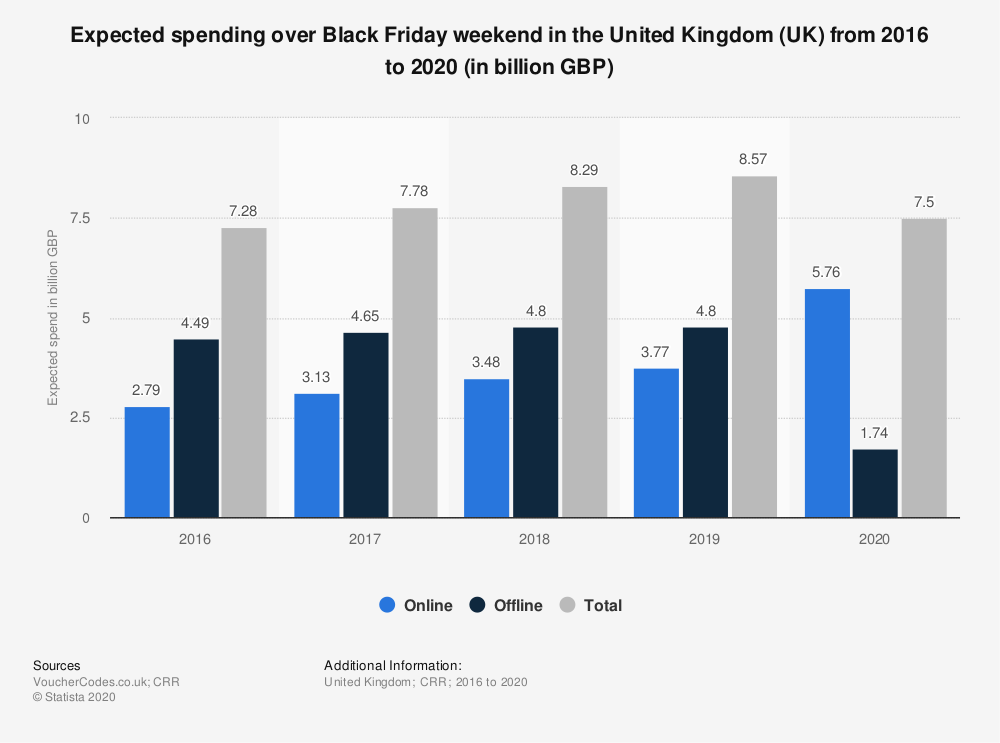 As we can see in the above chart, spending reduces on Black Friday in 2020, this is partly due to the global pandemic and the data not being released to the public domain yet. But we can predict the global spending will reduce in line with the economic decline. We expect to see a rise in 2021 as the global economy recovers from the pandemic.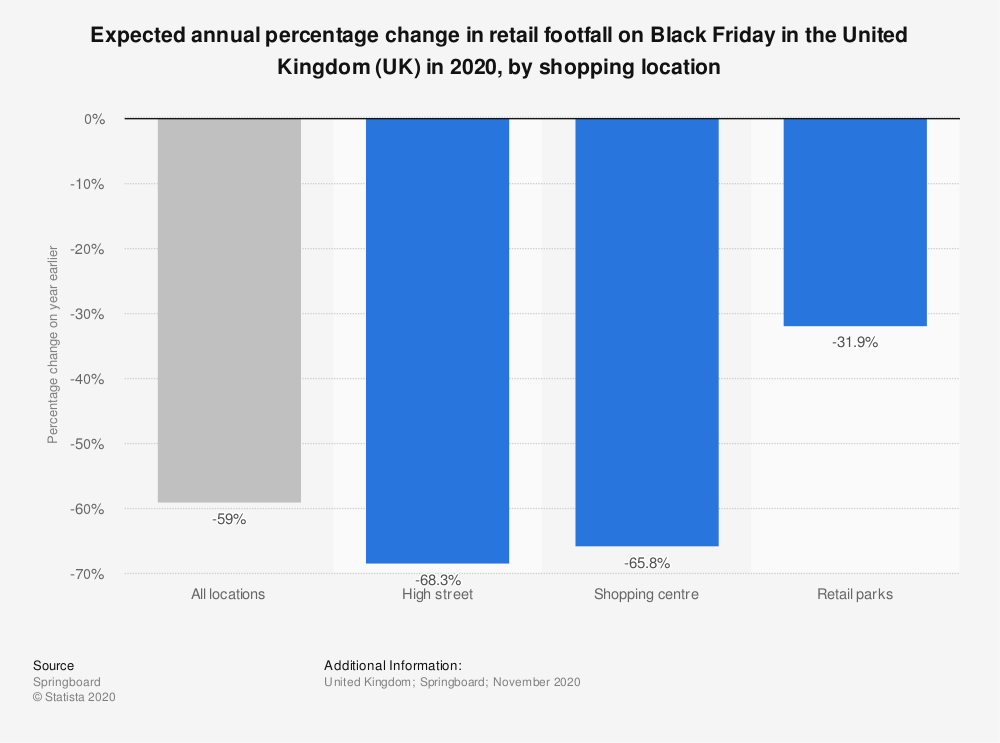 Due to the pandemic footfall for classic brick and mortar retail stores has dramatically fallen, meaning more people are shopping online than ever before. The footfall loss could be playing a part in the reduced spend on Black Friday due to their being less in-store deals.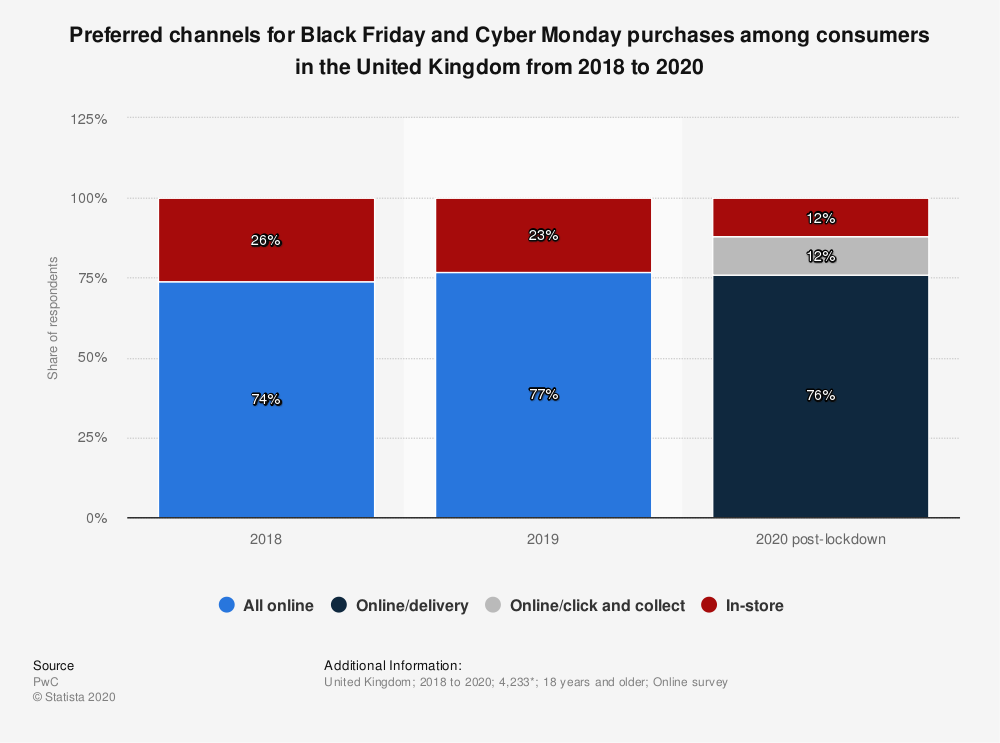 As we can see in the above chart there has been a dramatic shift in consumer spending which more people than ever shopping online for possibly the first time with the click and collect services booming more than ever.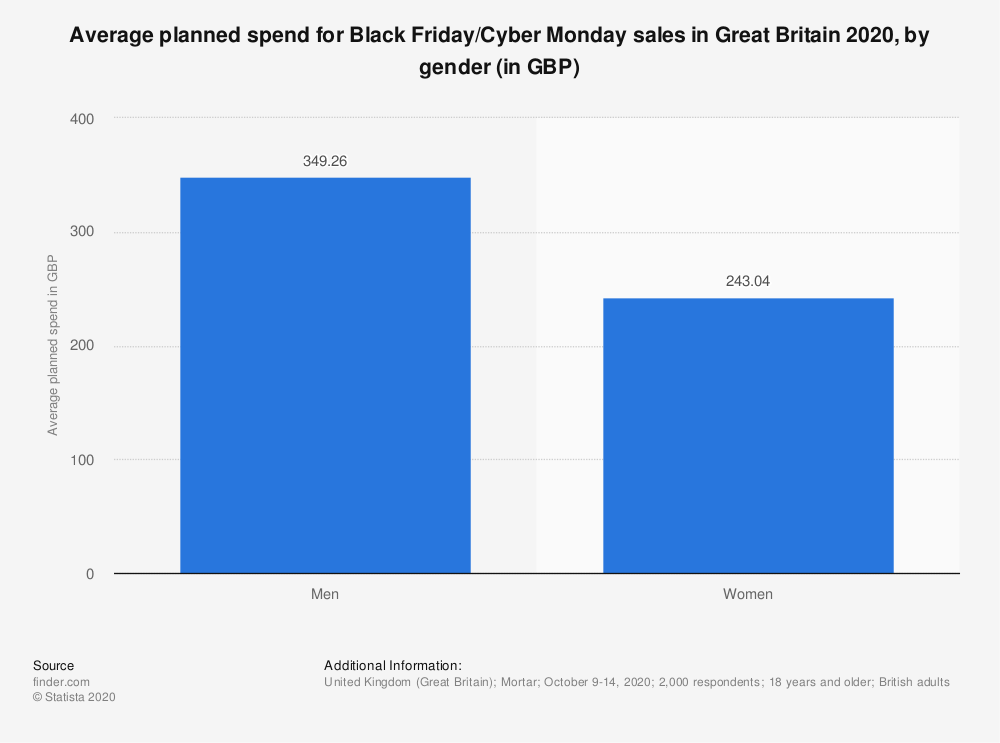 Men are the savvier discount shoppers of Black Friday, spending on average £349 per person on Black Friday compared to that of £243 for the typical Women spend on the same day. This could be due to Men buying higher ticket items such as tvs.
To sum up, Black Friday is here to stay in the United Kingdom, with more people than ever looking to bag a bargain. With the economic decline from the pandemic, consumers seem to be tightening their belts and reducing how much they are spending on Black Friday. Expect to see a dramatic rise in 2021 depending on the economic outcome.